Chagall and Arneg Canada announce a new partnership that combines their respective specialties in retail design and refrigerated solutions for the Canadian food sector. Improved processes and simplified customer experience distinguish this partnership approach.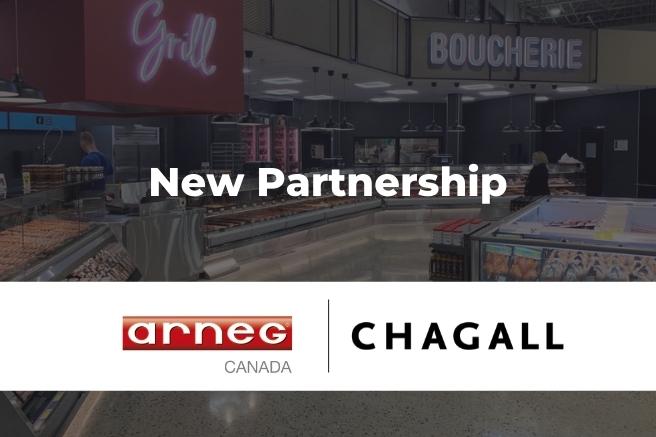 A Fresh Approach To Project Management

With a combined culture of innovation and high-quality products and services, Chagall and Arneg Canada translate their actions into effective management of turnkey projects. Together, they personalize their consulting service approach by consolidating the stages of the design planning and the integration of fixtures and refrigeration equipment. These elements, paired with the mechanical integration into design concepts, contribute to creating high-performance layouts.

Being aware of timeframe challenges, this process not only allows for better planning and concepts but also creates value for the client in regard to management optimization, reducing back and forth communications between the different stakeholders participating in the project.
Partners Who Take Up Significant Challenges

With a strong history of completing several successful joint projects, the combined efforts have proven unmatched efficiency in how the development of concepts and layout can be simplified and facilitated. By consolidating expertise, resources and respective specialties, this partnership will cater to projects of any size including large-scale rollouts. This is how innovation is reflected in the integrated service offer, to the benefit of the customers.

Arneg Canada and Chagall will soon meet at SIAL 2022, the largest food event in Canada. Visitors are welcome to meet these two exhibitors and partners at neighboring booths 1015 and 1115, from April 20-22, 2022, at the Palais des Congrès de Montréal.

About Arneg Canada

Leader in the manufacturing and installation of refrigeration equipment for the retail sector, mainly for supermarket chains and convenience stores. Located in Lacolle, Arneg Canada produces more than 7,000 refrigerated counters annually. www.arneg.ca