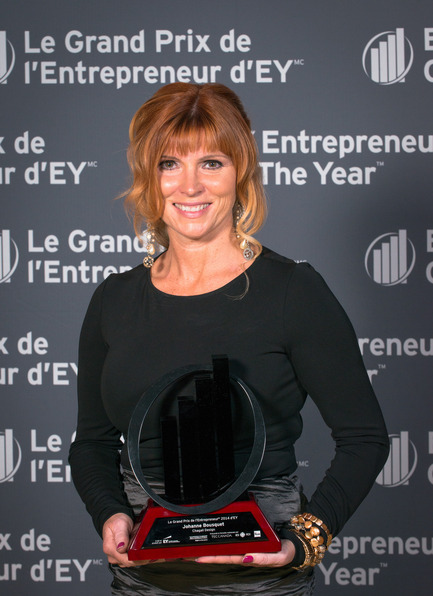 A First In 20 Years

For the first time in 20 years, a shopfitting business wins the title of this prestigious award. "We are proud to recognize Johanne Bousquet as a visionary who, thanks to her many entrepreneurial qualities, has brought Chagall Design amongst the biggest players in the industry", declares Luc Charbonneau, co-director of the Entrepreneur of the Year award, in the province of Québec. According to Johanne Bousquet, this prize confirms that Chagall Design stands out amongst the highest-performing companies of the industry. "Create today, deliver tomorrow –that is our reality! We are experiencing major growth which leads us to explore new markets and open a new office in Toronto in the next few months", she adds.
On The Leading Edge To Outperform The Competition

Filled with a strong sense of what retail is about, in this constantly evolving industry, Chagall Design offers intelligent design solutions that allow clients to be on the cutting edge of innovation and surpass the competition. Chagall Design makes all the difference. With customers' expectations changing at lightning speed, the forward-thinking and innovative designers at Chagall Design are quick on their feet to create distinct environments. That way, clients develop new market shares and succeed in outperforming the competition. "Our clients' profitability is at the heart of our concerns and that's why they choose to retain our services. Nowadays, it's imperative that a store offers a unique experience. At Chagall Design, each detail is designed to create that distinction, while increasing sales" explains Johanne Bousquet.
About Chagall Design

Chagall Design is a world of clever ideas that reinvent the shopping experience in retail since 1992. The company creates attractive commercial environments while maximizing product merchandising in order to increase clients' revenues. From a well-planned out business analysis, to design, fabrication and installation of décor and furniture, its experts transform any space in a captivating place, where every square inch is optimized and each moment becomes pure shopping pleasure.
About EY Entrepreneur Of The Year

EY Entrepreneur Of The Year is the world's most prestigious business award for entrepreneurs. The unique award makes a difference through the way it encourages entrepreneurial activity among those with potential, and recognizes the contribution of people who inspire others with their vision, leadership and achievement. As the first and only truly global award of its kind, Entrepreneur Of The Year celebrates those who are building and leading successful, growing and dynamic businesses, recognizing them through regional, national and global awards programs in more than 145 cities in more than 60 countries.
About EY

EY is a global leader in assurance, tax, transaction and advisory services. The insights and quality services we deliver help build trust and confidence in the capital markets and in economies the world over. We develop outstanding leaders who team to deliver on our promises to all of our stakeholders. In so doing, we play a critical role in building a better working world for our people, for our clients and for our communities.